TeamForge 17.1 has a lot of new features and enhancements. Here's a list of a few release-defining new features in TeamForge 17.1.
TeamForge Code Search (Elasticsearch)
Integration with Black Duck Code Sight is no longer supported in TeamForge 17.1 and later. TeamForge 17.1 (or later) is equipped with its own code search function powered by Elasticsearch. You can set up TeamForge Code Search while upgrading to TeamForge 17.1 (or later versions).
Consider the following points while upgrading from TeamForge 16.10 (or earlier) to TeamForge 17.1 (or later) versions.
Code Search is now an integral part of TeamForge, which is installed by default during TeamForge installation.
You can install TeamForge Code Search either on the TeamForge Application Server or on a separate SCM integration Server. It is recommended to install TeamForge Code Search on a separate server if your site's indexing needs are considerably high (large number of repositories, for example).
TeamForge Code Search works with GIT and SVN repositories. TeamForge Code Search has no support for CVS repositories.
Installation of Elasticsearch is determined by adding the "codesearch" identifier to the SERVICES token of either the TeamForge Application Server or the SCM Integration Server (if Code Search runs on a separate server). Refer to the

site-options.conf

configuration section of TeamForge installation/upgrade instructions for more information.
Elasticsearch needs 2GB of JVM heap size by default on a TeamForge site. You must have adequate RAM to accomodate the JVM heap requirements of Elasticsearch in addition to the JVM heap requirements of other components such as Jboss, integrated applications, and so on.
If required, you can increase the JVM heap size for Elasticsearch. Set the ELASTICSEARCH_JAVA_OPTS token with the Elasticsearch JVM heap size required for your site.
Elasticsearch stores every document, which for code search is each source file that is indexed, and it has its index itself as well. As a rule of thumb, the index for a repository would be roughly the same size as the working copy for that repository but in practice it will likely be smaller. Consider that all binary files and all files greater than 1 MB are not indexed at all. So, obviously any repository that has a large working copy due to these types of files will have a much smaller index. By default, Elasticsearch compresses the original files using LZ4 compression. It also offers a "best_compression" codec that compresses the originals using DEFLATE algorithm. In TeamForge, indexes have been updated to use the maximum compression.
The Elasticsearch data and logs are stored in /opt/collabnet/teamforge folder. Log rotation, startup and so on are all managed the same way as other TeamForge services.
As Black Duck Code Sight (BDCS) is not supported:

remove all BDCS tokens from your

site-options.conf

file while upgrading to TeamForge 17.1 (or later). TeamForge create runtime fails otherwise. See Site options change log for a list of obsolete

site-options.conf

tokens.
there is no migration support for existing BDCS indexes. All the repositories should be indexed afresh post upgrade to TeamForge 17.1 (or later). The list of repositories to index, remains the same though. After upgrading to 17.1 (or later), whatever repositories were being indexed by BDCS are indexed by the new Code Search without any user intervention. However, if you had customized indexing for one or more repositories using the BDCS administration UI, such information will not have been migrated and would need to be done again, but that can now be done via the TeamForge UI.
For more information about the new TeamForge Code Search feature and how to search for code, see:
My Workspace
The new
My Workspace
(added in TeamForge 16.10 only for users with SCM or VC licenses) is now the default for all TeamForge users regardless of the TeamForge license type. It has been enriched with a handful of configurable widgets with which you can view recent projects, recent repositories, recent commits, items assigned to you (TeamForge artifacts and document reviews), Git code reviews, project news and reports.
For more information, see My Workspace.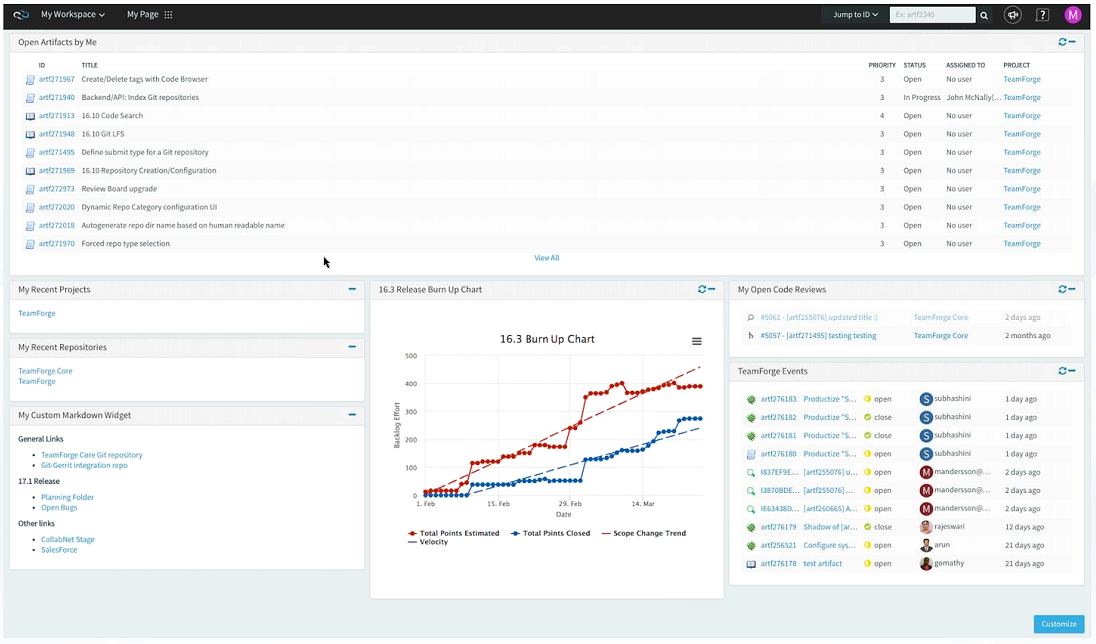 Document Enhancements
Document management is one of the primary themes of TeamForge 17.1. Documents component in TeamForge acts as the requirements management tool that provides options to create document reviews, custom statuses, custom flex fields, tags and status transition workflows.
Add custom fields and custom statuses
Document flex fields, tags and workflows are included in project templates
Search for documents by their status and other user-defined flex fields
Create Document workflows to manage status transitions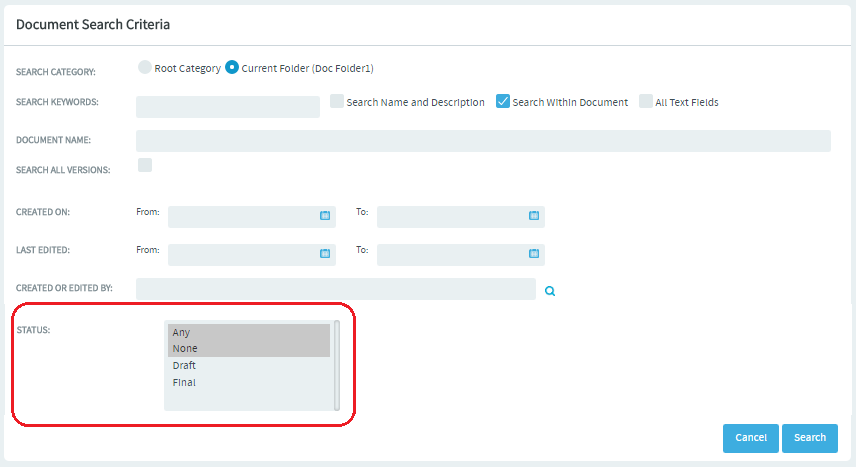 For more information, see:
Tags
Creating tags and tagging items such as documents and tracker artifacts can aid in classification, marking ownership of objects, tagging objects with milestones, releases and requirements, and so on. TeamForge 17.1 supports tagging of just Documents. Tags will be added to other object types such as tracker artifacts in due course. While Project Administrators can set up tags to be used by project members in a project, project members with CREATE/EDIT permissions can also create new tags, if required.

For more information, see:
Performance
TeamForge 17.1offers quite a few performance improvement enhancements, which include the following:
The List Artifacts page has gone through considerable changes for optimal performance and scalability and to better support trackers with large number of artifacts. As a result, the

Items Per Page

drop-down list in the

List Artifacts

page, used to limit the number of rows in a page, no longer contains the

500

,

1000

and

2500

options. You can now have a maximum of

250

rows listed in a page.

Fixed a performance issue to optimize the time taken to enable or disable Effort and Points fields on trackers with large number of artifacts.
Email notifications
TeamForge no longer sends email notifications that trigger Out of Office replies. This helps in preventing such Out of Office replies from being posted to artifacts and discussion forums.
Reports
"Team" is now one of the filters available with the Artifact Open/Close Chart (Multiple Trackers) report.
Install/Upgrade
Changes to supported software versions

Tomcat

8.0.39

Subversion

1.8.17

JRE

1.8.0_112

SSL encryption is turned on by default: SSL is enabled by default and a self-signed certificate is auto-generated. If you want to turn off SSL encryption for your site (not recommended), set SSL = off. See TeamForge 17.1 install/upgrade instructions for more information.
site-options.conf changes

TeamForge 17.1 includes major changes to site-options.conf configuration. The syntax for defining services running on a host, names (identifiers) of certain services and the syntax for defining the domain name have been changed in TeamForge 17.1. For more information, see site-options.conf. You can also refer to the site-options.conf configuration instructions on TeamForge 17.1 install/upgrade documentation.

Obsolete tokens:

BDCS_ADMIN_PASSWORD
BDCS_ADMIN_USERNAME
BDCS_HOST
BDCS_SSL
BDCS_TOMCAT_PORT
BDCS_SDK_SEARCH_LIMIT_MAX
BDCS_SSL_CERT_FILE
BDCS_SSL_KEY_FILE
BDCS_SSL_CA_CERT_FILE
BDCS_SSL_CHAIN_FILE
BDCS_SCAN_SOURCE_DIR_ROOT
BDCS_INSTALL_PATH
BDCS_PGSQL_HOME_DIR_ROOT
BDCS_PGSQL_PORT
BDCS_TOMCAT_MX_IN_MB
BDCS_TOMCAT_SHUTDOWN_PORT

Important:

No support for Black Duck Code Sight in TeamForge 17.1 (and later). Remove all Black Duck Code Sight tokens from your site-options.conf file while upgrading to TeamForge 17.1. TeamForge create runtime fails otherwise.

Scripts

The

CodeSightMigration.sh

script is no longer available.
The

sofconv.py

script is no longer available.
End-of-life announcements/feature removals
No support for Black Duck Code Sight. However, TeamForge is now equipped with a homegrown code search utility powered by Elasticsearch.
For more information, see