Your My Page is a personal workspace where you can manage your personal information, your preferences, and your assigned activities.
Getting there
After logging into TeamForge, you are taken to your My Page/My Workspace. Where you land after logging on to TeamForge can change depending on the license type assigned to you. For example, while a user with ALM license sees the "My Page" with tabs that show items assigned to the user, created by the user, or awaiting approval of the user, a user with SCM or Version Control license sees the "My Workspace" dashboard equipped with configurable widgets such as "My Recent Projects", "My Recent Repositories", "Git Code Reviews", "Project News" and so.
My Page
After you log on, two main menus - My Workspace and My Page appear on the top of your My Page. Based on your license type and access permissions, the menu options are available. These two menu headers change dynamically depending on the menu option you select.
From the
My Workspace
menu, you can access the following:
If you are a site administrator, click

Admin

to go to your site admin menu options.
View a list of items you had recently edited.
View the projects you are a member of or view all the projects existing in the TeamForge site.
From the
My Page
menu, you can access the following:
Click

DASHBOARD

to view your Project Dashboard.

Note:

You can access the Project Dashboard only if you have the appropriate permissions.

Click

PROJECTS

to create a new project or to manage your project membership.
Click

MONITORING

to view your monitored items or to manage your monitoring preferences.
Click

MY SETTINGS

to manage your user account.
Click

MY PAGE

to return to your

My Page

.
From your My Page workspace, you can do the following:
My Recent Projects

A list of your most recently accessed projects. Click a project to go to its project home page.

My Recent Repositories

Shows repositories to which 5 most recent commits were made by the user. Clicking the link takes you to the configured code browser for that repository.

My Recent History

A list of the items that you have most recently created or edited. Click an item to go to its details page.

My Items

Your My Page workspace provides consolidated views of all of your

CollabNet

TeamForge

items. All items that are assigned to you, were created by you, or are awaiting your approval are displayed, from all projects of which you are a member.
My Workspace dashboard
A new My Workspace dashboard has been added in TeamForge 16.10 for users with SCM or Version Control licenses.
You can configure your "My Workspace" dashboard so that you can quickly navigate to recent projects and repositories, view Git code reviews and so on.
Your
My Workspace
dashboard can be customized to suit your own needs. Click the
Enable edit-mode
icon on the top-right of the page to get started.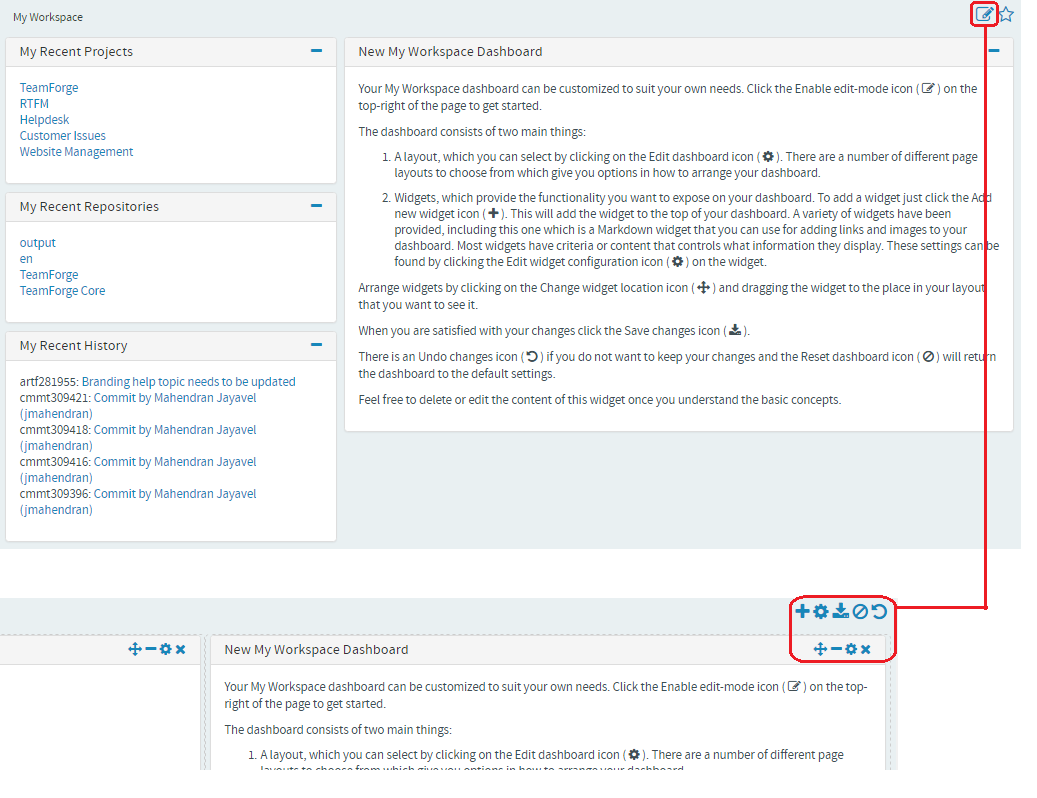 The dashboard consists of two main things:
Arrange widgets by clicking the
Change widget location
icon and dragging the widget to the place in your layout that you want to see it. When you are satisfied with your changes click the
Save changes
icon. There is an
Undo changes
icon if you do not want to keep your changes and the
Reset dashboard
icon will return the dashboard to the default settings.